THESE ARE THE LATEST DESIGN LED MARINE LIGHTS FROM LED AUTOLAMPS WHICH ARE 100% WATERPROOF AND COME WITH A 5 YEAR WARRANTY
Features / Specifications
Fully Submersible
Plug in cable kit compatible
8 Metre Kit Available
ADR approved
IP67 100% Water proof
12 Volt Only
5 Year Warranty
210mm x 110mm x 22mm
Function
Stop/Tail/Indicator/Licence
Part No.
209GARLP2
12 Volt, LHS & RHS, Twin Blister
209GAR4P
12 Volt, Left Side, Poly Bag
209GARL4P
12 Volt, Right Side Licence, Poly Bag
.
LED Qty
20, 3 Licence
Cable
40cm with plug
Draw
Stop
Tail
Ind
.
@13.8V 
0.117A 
0.045A 
0.150A 
 
Approvals
Function
Category
CRN
 
ADR
Stop/Tail
49/00
48974
 
ADR
Indicator
6/00 2a
48972
 
ADR
Reflector
47/00
48973
 
ADR
Licence
48/00
49550
Fitting Instructions
Surface mount onto flat surface horizontally with stainless steel bolts provided in assembly and run cable through 12mm hole. Please refer to ADR 13/00.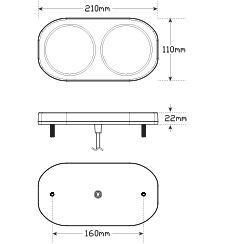 NEED THIS PART FITTED ?
THEN OUR STATE OF THE ART WORKSHOP IN BRISBANES BAYSIDE HAS YOU COVERED.
WE ARE AN AUTHORISED AL-KO IQ7 AND ESC SALES, SERVICE AND REPAIR CENTRE, DEXTER DSC SWAY CONTROL FITTED AND REPAIR CENTRE AS WELL AS A AUTHORISED AL-KO ENDURO TRAILING ARM SUSPENSION SALES AND FITTING CENTRE.
OUR LARGE LOCK UP WORKSHOP CAN HANDLE BOAT TRAILERS AND CARAVANS UP TO 40FT AND IS FULLY INSURED.
WE ARE QLD TRANSPORT ACCREDITED FOR SAFTY CERTIFICATES UP TO 3.5 TON, CERTIFICATE OF INSPECTIONS UP TO 10 TON, HVRAS PRE REGISTRATION INSPECTIONS ON ALL TRAILERS AND CARAVANS